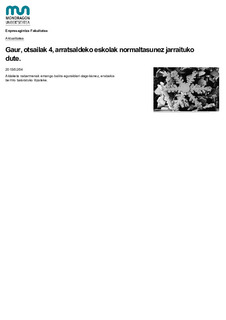 Title
Gaur, otsailak 4, arratsaldeko eskolak normaltasunez jarraituko dute.
Las clases de hoy 4 de febrero por la tarde se impartirán con normalidad.
Today, 4th of February, classes will continue normally.

Author
Mondragon Unibertsitatea

Published Date
2015-02-04
Publisher
Mondragon Unibertsitatea
Keywords
Enpresagintza Fakultatea
Facultad de Empresariales

Abstract
Errepideen egoera aztertu ondoren, gaur, otsailak 4, eskolak normaltasunez jarraituko dute Oñati, Irun eta Bilbao Berrikuntza Faktorian.
Tras analizar el estado de las carreteras, hoy, 4 de febrero, las clases de la tarde seguirán con normalidad en los campus de Oñati, Irun y Bilbao Berrikuntza Faktoria.
After analyzing the state of the roads today all the classes will continue normally in the campus of Oñate, Irun and Bilbao Berrikuntza Faktoria.
Document type
Other
Rights
https://creativecommons.org/licenses/by-nc-sa/4.0/
Access
Open Access