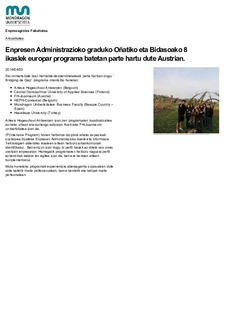 Title
Enpresen Administrazioko graduko Oñatiko eta Bidasoako 8 ikaslek europar programa batetan parte hartu dute Austrian.
8 alumnos/as del grado en administración de empresas de Oñati y Bidasoa participan en un programa europeo en Austria.
8 Business Administration students have participated in an european program in Austria.

Author
Mondragon Unibertsitatea

Published Date
2014-04-03
Publisher
Mondragon Unibertsitatea
Keywords
Enpresagintza Fakultatea
Facultad de Empresariales

Abstract
Austrian egon dira, Graz-en ain zuzen ere, Belgika, Finlandia, Austria eta Turkiako beste 40 ikaslekin batera.
Han sido dos semanas en la ciudad de Graz, Austria, junto con otros 40 alumnos/as provenientes de Bélgica, Finlandia, Austria y Turquía.
They have spent two weeks in Graz, Austria, with other 40 students coming from Belgium, Finland, Austria and Turkey.
Document type
Other
Rights
https://creativecommons.org/licenses/by-nc-sa/4.0/
Access
Open Access