Mondragon Unibertsitateak eta Indiako MIDAS prestakuntza-zentroak hitzarmena sinatuko dute unibertsitatearen ekintzailetza-eredua Asiako herrialde horretara eramateko.
Mondragon Unibertsitatea y el centro de emprendizaje indio MIDAS firman un acuerdo para exportar el modelo de emprendimiento de la universidad en el país asiático.;
Mondragon University and the indian center of entrepreneurship MIDAS sign an agreement to export the model of entrepreneurship in India.
| | | |
| --- | --- | --- |
| dc.contributor.author | Mondragon Unibertsitatea | |
| dc.date.accessioned | 2020-12-17T07:21:13Z | |
| dc.date.available | 2020-12-17T07:21:13Z | |
| dc.date.issued | 2014-04-01 | |
| dc.identifier.uri | http://hdl.handle.net/20.500.11984/3849 | |
| dc.description.abstract | Hitzarmenari esker, ekintzailetzaren eremuan lan egiteko euskal-indiar sarea sortuko da, eta Mondragon Unibertsitateak herrialde horretako gazteak prestatu ahal izango ditu eta esparru horretan jarrera proaktiboak sustatu. | eu |
| dc.description.abstract | El acuerdo supone la creación de una red vasco -india para trabajar en el ámbito del emprendimiento y que Mondragon Unibertsitatea pueda formar a los jóvenes del país y fomentar actitudes proactivas en este ámbito. | es |
| dc.description.abstract | The agreement involves the creation of a Basque-Indian network to work in the field of entrepreneurship and and promote proactive attitudes in this area. | en |
| dc.publisher | Mondragon Unibertsitatea | |
| dc.rights | https://creativecommons.org/licenses/by-nc-sa/4.0/ | |
| dc.subject | Enpresagintza Fakultatea | eu |
| dc.subject | Facultad de Empresariales | es |
| dc.title | Mondragon Unibertsitateak eta Indiako MIDAS prestakuntza-zentroak hitzarmena sinatuko dute unibertsitatearen ekintzailetza-eredua Asiako herrialde horretara eramateko. | eu |
| dc.title | Mondragon Unibertsitatea y el centro de emprendizaje indio MIDAS firman un acuerdo para exportar el modelo de emprendimiento de la universidad en el país asiático. | es |
| dc.title | Mondragon University and the indian center of entrepreneurship MIDAS sign an agreement to export the model of entrepreneurship in India. | en |
| dc.type | info:eu-repo/semantics/other | |
| dcterms.accessRights | info:eu-repo/semantics/openAccess | en |
| dcterms.type | http://purl.org/coar/resource_type/c_1843 | en |
| local.rights.image | © Mondragon Unibertsitatea | en |

Files in this item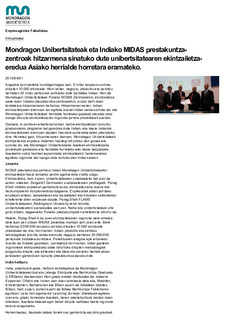 Name:

mondragon-unibertsitateak-eta- ...

Size:

97.80Kb

Format:

PDF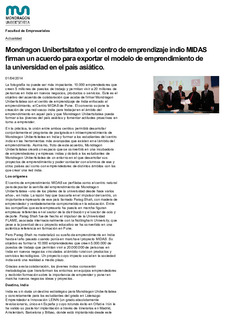 Name:

mondragon-unibertsitatea-y-el- ...

Size:

99.12Kb

Format:

PDF
Name:

mondragon-university-and-the-i ...

Size:

98.45Kb

Format:

PDF
This item appears in the following Collection(s)