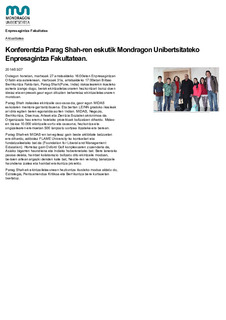 Title
Konferentzia Parag Shah-ren eskutik Mondragon Unibertsitateko Enpresagintza Fakultatean.
Ponencia a cargo de Parag Shah en la Facultad de Empresariales de Mondragon Unibertsitatea
Conference led by Parag Shah in the Faculty of Business Administration.

Author
Mondragon Unibertsitatea

Published Date
2014-03-27
Publisher
Mondragon Unibertsitatea
Keywords
Enpresagintza Fakultatea
Facultad de Empresariales

Abstract
"Ekintzailea izatea, ekintzen eta ebidentzien pausuak jarraitzen dituen bidea" da Parag Shah-ren konferentziaren izenburua.
"Ser emprendedor, un camino que sigue los pasos de los hechos y evidencias" es el título de la ponencia ofrecida por Parag Shah.
"Being enprepreneur, a path that follows the steps of facts" is the title of the conference led by Parag Shah.
Document type
Other
Rights
https://creativecommons.org/licenses/by-nc-sa/4.0/
Access
Open Access