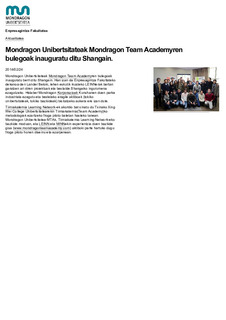 Title
Mondragon Unibertsitateak Mondragon Team Academyren bulegoak inauguratu ditu Shangain.
Mondragon Unibertsitatea ha inaugurado las oficinas de Mondragon Team Academy en Shangai.
Mondragon University has opened his Mondragon Team Academy offices in Shangai.

Author
Mondragon Unibertsitatea

Published Date
2014-02-24
Publisher
Mondragon Unibertsitatea
Keywords
Enpresagintza Fakultatea
Facultad de Empresariales

Abstract
Lander Beloki, Enpresagintza Fakultateko dekanoa, Shangaira mugitu da lehen eskutik proiektua ezagutzeko.
Lander Beloki, decano de la facultad de Empresariales, se ha desplazado a Shangai a conocer de primera mano el proyecto.
Lander Beloki, dean of the Business faculty, has moved to Shanghai to promote the project.
Document type
Other
Rights
https://creativecommons.org/licenses/by-nc-sa/4.0/
Access
Open Access
Related items
Showing items related by title, author, creator and subject.
Mondragon Unibertsitatea

(

Mondragon Unibertsitatea

,

2014

)

Mondragon Unibertsitatea

(

Mondragon Unibertsitatea

,

2015

)

Mondragon Unibertsitatea

(

Mondragon Unibertsitatea

,

2013

)