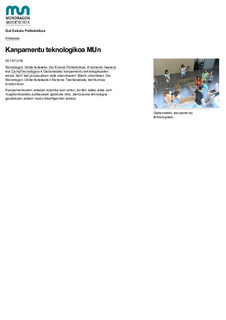 Title
Kanpamentu teknologikoa MUn
Campamento tecnológico en MU
Technology camp at MU

Author
Mondragon Unibertsitatea

Published Date
2013-12-18
Publisher
Mondragon Unibertsitatea
Keywords
Goi Eskola Politeknikoa
Escuela Politécnica Superior

Abstract
7 eta 14 urte bitarteko gaztetxoentzat kanpamentu teknologikoaren edizio berria ospatuko da gabonetan Arrasateko Garaia kanpuseko 11. eraikuntzan.
Nueva edición del campamento tecnológico para jóvenes de entre 7 y 14 años que se celebrará en navidades en el edificio 11 del Campus Garaia de Mondragon.
New edition of the technology camp for 7 to 14 years young will take place on Christmas in Garaia Campus Building 11, Mondragon.
Document type
Document type
Other
Rights
https://creativecommons.org/licenses/by-nc-sa/4.0/
Access
Open Access