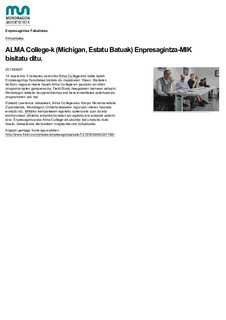 Title
ALMA College-k (Michigan, Estatu Batuak) Enpresagintza-MIK bisitatu ditu.
ALMA College (MICHIGAN, USA) visitó Enpresagintza-MIK.
ALMA COLLEGE ( MICHIGAN, USA) VISITED THE BUSINESS FACULTY and MIK on MAY 10th.

Author
Mondragon Unibertsitatea

Published Date
2013-06-07
Publisher
Mondragon Unibertsitatea
Keywords
Enpresagintza Fakultatea
Facultad de Empresariales

Abstract
14 ikasle eta 3 irakaslez osaturiko Alma College-eko talde batek Enpresagintza Fakultatea bisitatu du.
Un grupo de 14 estudiantes y tres profesores de Alma College visitaron la Facultad de Empresariales, Enpresagintza.
A team of 14 students and three professors from Alma College visited the Business Faculty of MU last May 10th .
Document type
Other
Rights
https://creativecommons.org/licenses/by-nc-sa/4.0/
Access
Open Access