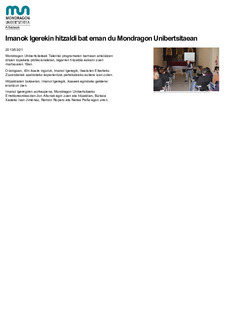 Title
Imanok Igerekin hitzaldi bat eman du Mondragon Unibertsitaean
Imanol Igeregi ha ofrecido una conferencia en Mondragon Unibertsitatea
Imanol Igeregi gave a conference at Mondragon Unibertsitatea

Author
Mondragon Unibertsitatea

Published Date
2013-03-21
Publisher
Mondragon Unibertsitatea
Keywords
Aktualitatea
Actualidad

Abstract
Talentia programaren baitan ospatzen diren topaketa profesionaletan, martxoaren 19an, Ikastolen Elkarteko Zuzendariak ikasleei hitzaldi bat eskaini zien.
Dentro de los encuentros profesionales que Mondragon Unibertsitatea organiza en el programa Talentia, el 19 de marzo, el Director de "Ikastolen Elkartea", ofreció una conferencia al alumnado.
As part of the professional meetings that Mondragon Unibertsitatea organises within the Talentia programme, on 19th March, the Director of "Ikastolen Elkartea" offered a conference to the students.
Document type
Other
Rights
https://creativecommons.org/licenses/by-nc-sa/4.0/
Access
Open Access